Unique fast casual franchise of gourmet sweet & savory pies & specialty coffees
– baked-from-scratch happiness from Becky the "Pie Mom" to the world

FOUNDED / SEGMENT
2011 / Fast Casual – gourmet sweet & savory pies & specialty coffees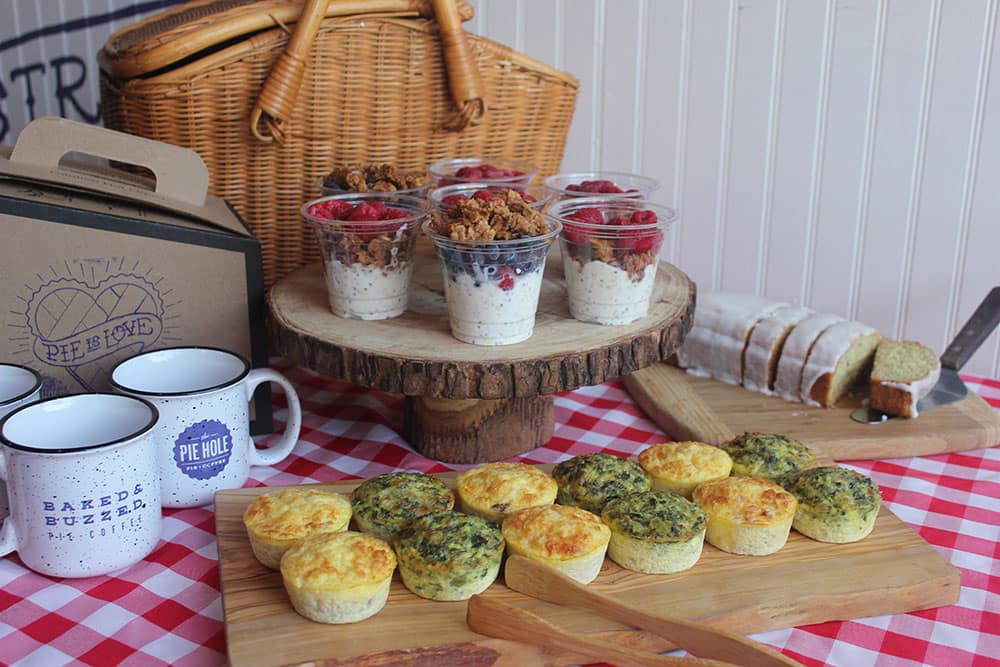 REVENUE STREAM / DAY PARTS
Coffee, Bakery, Catering / Breakfast, Lunch, Dinner, Late-Night, Dessert, Snack
FOOTPRINT / HOURS OF OPERATION
400 – 2,200 sq. ft. / varies by location, approximately 8am – 11pm
The Pie Hole, the fastest growing pie and coffee shop in the nation, was founded in 2011 and features generations-old family pie recipes, alongside new and innovative offerings, topped-off with their exclusive line of The Pie Hole Fair-Trade Organic Coffees.
The Pie Hole serves happiness one slice at a time with fresh-baked, made from scratch, sweet and savory pies, and a drink from their unique selection of signature beverages and specialty coffee program. Becky Grasley is the mother and baker behind the award winning, made from scratch recipes for which the LA based eatery is known.
The Pie Hole is the only specialty pie and coffee shop chain currently growing through franchising in the United States. The Pie Hole is dedicated to offering delicious, distinctive flavors made with premium ingredients that keeps fans coming back for more. Their unique creations are available for breakfast, lunch, dinner and late night, with the ability to accommodate large orders, corporate parties, and weddings.
Becky Grasley
"Pie Mom" & Baker
The Pie Hole
Specialty franchise offering in-demand pies and Fair-Trade organic coffees, ideal for prime real estate & flexible conversion options from 400 – 2,200 sq. ft.
Appealing to a wide range of demographics, The Pie Hole bakery makes all their sweet & savory pies from scratch, using only the highest quality ingredients for new & generations-old recipes
Proven business & commissary model, efficient labor model, limited food waste & turnkey operation making it an affordable & rewarding long-term investment
The Pie Hole has an extensive menu & captures all day parts: breakfast, lunch, dinner, late-night, snack-time, plus they are great for catering & special events
Unlike typical traditional bakery or coffee franchises, The Pie Hole has the competitive edge by offering celebrated sweet & savory comfort food options that range from traditional to truly unique
MULTI-UNIT DEVELOPMENT FEE
Full deposit 1-3 units (or 1-5 for 10+ units), 50% deposit each additional unit
Target Franchisee
The Pie Hole is quickly growing to become the largest pie franchise in the United States and Internationally. We are looking for franchisees who are focused on exceptional operations and customer service and preferably have previous experience running multi-unit restaurants.
Franchise Requirements
Operational experience in the restaurant business is a plus, but not required assuming a professional General Manager will be part of your team. Prospective franchisees must meet the minimum requirements below to be consider for a The Pie Hole franchise.
$1MM net worth*
$500K liquid capital available for investment*
Ready to begin development within the next 3-6 months
Ready to develop a minimum 5-unit territory in a major U.S. area
*Investment partners may contribute to this requirement
Franchise Support
The success of our franchisees is our success. The Pie Hole franchisees can rely on our expertise and experience for guidance and take advantage of our full suite of franchisee support services.
Support provided to franchisees includes:
'The Crust' franchisee learning management system & confidential operations manual
Access to our proprietary recipes & menu development
Real estate, site selection
Store construction & design guidance
Ongoing on-site/remote operational support
Assistance with local advertising and marketing efforts
Purchasing, distribution & equipment selection
Comprehensive pre-opening training
"All I can say is – shut your pie hole – this place is legit! Glad they are open late and have a good selection of pie and pie hole. Really enjoyed my salted honey custard pie and loved the cereal cheesecake pie. Just the smell of pie outside will get you hungry. Will definitely recommend to my friends to try."
Rolly T.
Restaurant visitor, Las Vegas, NV
"I am so glad I paid this place a visit! I had the Salted Chocolate Pie and the Chicken 'N' Cornbread Pot Pie; the pie was amazing and pot pie was delicious; it was the perfect combination of sweet and savory all in one sitting. Ahhh this place felt like home…"
Mark M.
Restaurant visitor, Los Angeles, CA
"Wow this place is so awesome! It's a quaint little shop with a nice display of all the different pies they have. I got the earl grey and pistachio pie slice and I was soooo impressed. It was so flavorful, and it tasted like I was eating a cloud! It was one of my favorite desserts I've had in Los Angeles for sure!"
Elizabeth D.
Restaurant visitor, Port Jefferson, NY
"I was only in town for the weekend and happy to find this highly rated spot right by my hotel. I ordered a slice of earl grey pie, a spinach mushroom feta quiche, a guava cream cheese pie hole, a nitro cold brew, and a drip coffee. I can't recommend it enough! An awesome spot for a casual date or a quick bite."
Alison C.
Restaurant visitor, Seattle, WA
"The Pie Hole serves traditional delights, but I found myself gravitating to their unique curveball offerings like the Earl Grey tea or cereal killer cheesecake pies. I can't rant and rave enough about those flavors, they're so tasty! If you aren't feeling dessert, they also have amazing savory options as well."
Jonathan N.
Restaurant visitor, Los Angeles, CA
"I only have PIES for you, Pie Hole! I have been obsessed with their pies for years now… The earl grey pie is to die for! But other flavors such as matcha green tea, Mexican chocolate, and banana butterscotch also taste heavenly. Needless to say, I highly recommend…everyone needs more pie in their life!"
Mindy D.
Restaurant visitor, Orange County, CA
BECOME A PIE HOLE FRANCHISEE IN 30-DAYS
Step 1
Submit an Inquiry Form
(Today!)
Step 2
Speak with Franchise Development Director
(within 24 hours)
Step 3
Submit the Franchise Application
(2 days)
Step 4
Review Application with Franchise Development Director
(3 days)
Step 5
Receive & review Franchise Disclosure Document with Franchise Development Director
(5 days)
Step 6
Schedule Discovery Day with Franchisor
(14 days)
Step 7
Execute letter of intent
(16 days)
Step 8
Become a Franchisee!
(30 days)
Ready to become a successful franchisee?
Complete our franchise application & access the FDD:
1. Notice Regarding Franchise Offers and Sales
A. This information is not intended as an offer to sell, or the solicitation of an offer to buy, a franchise. It is for information purposes only. There are approximately 14 countries and 15 US states that regulate the offer and sale of franchises. The countries are Australia, Brazil, Belgium, Canada (provinces of Ontario, Alberta, Prince Edward Island, New Brunswick and Manitoba), China, France, Indonesia, Italy, Japan, Malaysia, Mexico, Russia, South Korea, Spain, and the United States of America. The US states are California, Hawaii, Illinois, Indiana, Maryland, Michigan, Minnesota, New York, North Dakota, Oregon, Rhode Island, South Dakota, Virginia, Washington, and Wisconsin. If you are a resident of one of these states or countries, are receiving this message in one of these states or countries, or intend to operate a franchise in any of these states or countries, we will not offer you a franchise unless and until we have complied with any applicable pre-sale registration and/or disclosure requirements in the applicable jurisdiction.
B. This offering is not an offering of a franchise. In New York (USA), an offering of a franchise can only be made by a prospectus that has been previously filed and registered with the Department of Law of the State of New York. The application for registration of an offering prospectus or the acceptance and filing thereof by the Department of Law as required by the New York law does not constitute approval of the offering or the sale of such franchise by the Department of Law or the attorney general of New York.