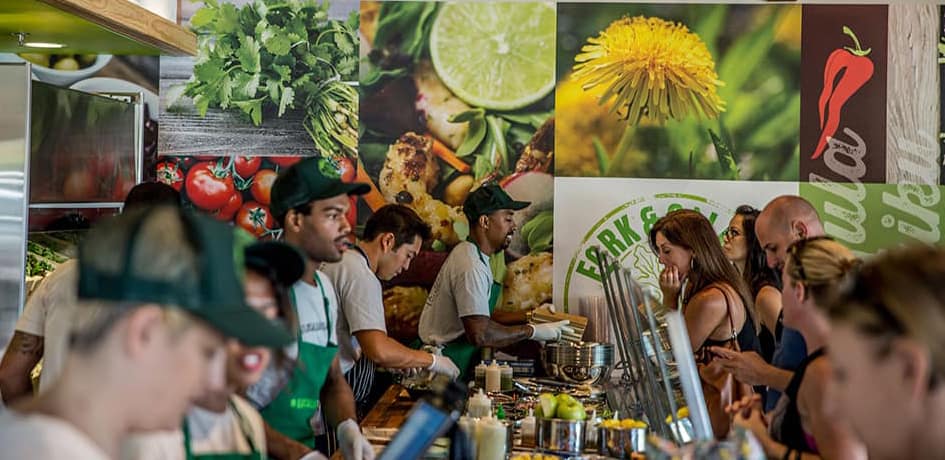 Hawaii Business Magazine:
By Carin Enovijas
BEST NEW BUSINESS
Fork & Salad Maui
Co-Owners: Travis Morrin, Jaron Blosser & Cody Christopher
In 2016, Travis Morrin, Jaron Blosser and Cody Christopher opened the flagship Fork & Salad Maui location in Kihei's busy Azeka Shopping Center. A Kahului location followed in 2018, feeding the island's growing appetite for healthy, fast and affordable food that is locally sourced.
The menu features chef-inspired salads, sandwiches, soups, stews and juices, organic coffee, tea and kombucha supplied by more than 25 local farms and vendors.
"We're on a mission to spread a taste of Maui, infused with the aloha spirit, to all parts of the world – one guest, one salad and one community at a time," says Morrin.
In early May, Fork & Salad will open its first Mainland store in the Old Towne district of Orange, California, in partnership with Fransmart, a leader in franchise development. Fransmart CEO Dan Rowe says, "We see Fork & Salad as a 1,000-plus unit chain and can't wait for the Orange, California, location to open.
"Healthy food is the most popular segment and eating trend in the restaurant industry today," and high sales volume and low startup costs associated with Fork & Salad's fast-casual concept position the business to succeed as a global brand, he adds.
Morrin says a shared passion for fresh food "done right" is what emboldened the young partners to fearlessly break onto the culinary scene in 2009 with a food truck and catering business before opening the award-winning Three's Bar & Grill in 2010.
"If I knew what I know now back when I was 22, when I opened Three's, I would never have done it. It would just be too scary," says the Maui-born entrepreneur.
The partners now employ 135 people on Maui, and each business has won numerous people's choice awards. Three's has been featured on Guy Fieri's TV show, "Diners, Drive-ins and Dives," but Morrin says he is especially proud of Fork & Salad's 2017 Friend of Agriculture Award, bestowed by the Maui County Farm Bureau and its executive director, Warren Watanabe.
Watanabe says that in addition to buying local ingredients, Morrin and his partners provide invaluable exposure for local farmers and ranchers.
"They also donate their time and resources to support charities and nonprofit organizations that educate the community about the importance of a viable local agricultural industry," says Watanabe.
In fact, Morrin says, supporting local ag and educating people about where their food comes from is at the root of Fork & Salad's mission.