Fast casual Indian cuisine with innovative spin on "street food" dishes,
sharing happiness through approachable comfort food

FOUNDED / SEGMENT
2009 / Fast Casual – custom Indian food & bar
REVENUE STREAM / DAY PARTS
Dine-in, Delivery, Carry-out, Catering, Alcohol / Lunch, Dinner, Happy Hour, Snack, Late Night
FOOTPRINT / HOURS OF OPERATION
1,500 sq. ft. (average) / varies by location, approximately 11am – 11pm daily
Curry Up Now is the largest and fastest growing Indian fast-casual restaurant, renowned for their innovative spin on traditional Indian cuisine, and now available as an affordable franchise! With authentic flavors at its core, they present their one-of-a-kind comfort "Indian street food" in an approachable format that supports many different diets.
Curry Up Now takes care of their customers and neighborhood vendors by using only clean ingredients sourced locally whenever possible. Their goal everyday: make delicious food that WOWS their guests, supports their employees, and gives back to the community. Founder and CEO, Akash Kapoor shares, "I firmly believe in bringing happiness to the world through food".
Akash spent years perfecting Curry Up Now food and flavors which are shared with a professional commissary to produce the sauces, chutneys, and other goods. Rather than requiring franchisees to purchase higher priced food directly from the franchisor, Curry Up Now offers franchisees the ability to purchase the food directly from the commissary at the same price as the founders, giving franchisees even more opportunity to be profitable.
Akash Kapoor
CEO & Chief Trouble Maker
Curry Up Now
Unique concept means perfect fit for prime real estate & flexible conversion options from 1,300 to 3,300 sq.ft.
Capitalizing on the recent trend naming Indian food as the fastest-growing ethnic cuisine (Mintel Group)
No requirement for an Indian chef – all chutneys/sauces are prepared & delivered using a commissary & major distributor
Uses only clean ingredients sourced locally whenever possible & created in an approachable format that supports many different diets
Protein is halal, naturally raised & free of antibiotics, with the menu also including a wide array of vegetarian, vegan, & gluten-free choices
MULTI-UNIT DEVELOPMENT FEE
Full deposit 1-3 units (or 1-5 for 10+ units), 50% deposit each additional unit
START UP COSTS (MULTI-UNIT)
Target Franchisee
We're looking for experienced franchisees and qualified investors to help us grow the Curry Up Now fast casual brand across the country. Prospective franchisees must be hands-on in the operations of their restaurants and adhere to Curry Up Now organizational structure requirements and brand guidelines.
Franchise Requirements
Operational experience in the restaurant business is a plus, but not required assuming a professional General Manager will be part of your team. Prospective Franchisees must meet the minimum requirements below to be consider for a Curry Up Now franchise.
$1MM net worth*
$500K liquid capital available for investment*
Ready to begin development within the next 3-6 months
Ready to develop a minimum five unit territory in a major U.S. area
*Investment partners may contribute to this requirement
Franchise Support
Curry Up Now is committed to ensuring impeccable operations at every location. Curry Up Now provides our franchise partners with the all the resources and support necessary to continually succeed and grow.
Support provided to franchisee includes:
Real estate / site selection
Store build-out, construction
Training systems
Operational support
Recipe & menu development
Marketing & brand building
Vendor & equipment selection
Point of Sale system
Pre-opening, grand opening support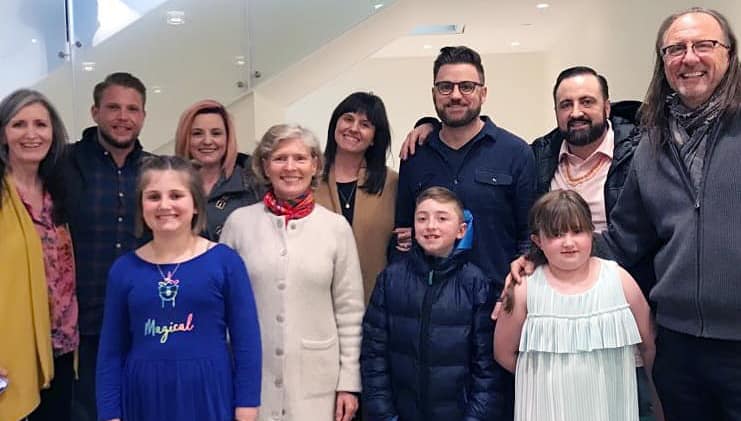 HOW AN ENTREPRENEUR FAMILY SECURED A 2-STATE 20-UNIT DEAL WITH ONE OF THE HOTTEST FAST CASUAL "TOP MOVERS & SHAKERS"
For over 35 years John Netto and his family have been successful entrepreneurs, philanthropists and active community members in Salt Lake City, Utah, when one day Curry Up Now's innovative spin on traditional Indian cuisine and successful franchise business model caught their eye as the next big thing.
When they visited the corporate stores in San Francisco, CA, they were impressed by Curry Up Now operations which make it easy to deliver consistent high-quality food, but it was the unique menu items and flavors like nothing they have ever eaten before that motivated them to go beyond a 5-unit agreement and negotiate to be the franchisee of 20 Curry Up Now restaurants throughout Utah and Colorado.
John Netto explains, "Our family loves Indian food and Curry Up Now is unlike any other Indian concept out there; not just the menu, but even the presentation is differentiating. You might not know…
BECOME A CURRY UP NOW FRANCHISEE IN 30-DAYS
Step 1
Submit an Inquiry Form
(Today!)
Step 2
Speak with Franchise Development Director
(within 24 hours)
Step 3
Submit the Franchise Application
(2 days)
Step 4
Review Application with Franchise Development Director
(3 days)
Step 5
Receive & review Franchise Disclosure Document with Franchise Development Director
(5 days)
Step 6
Schedule Discovery Day with Franchisor
(14 days)
Step 7
Execute letter of intent
(16 days)
Step 8
Become a Franchisee!
(30 days)
Ready to become a successful franchisee?
Click below to complete our franchise application & access the FDD:
1. Notice Regarding Franchise Offers and Sales
A. This information is not intended as an offer to sell, or the solicitation of an offer to buy, a franchise. It is for information purposes only. There are approximately 14 countries and 15 US states that regulate the offer and sale of franchises. The countries are Australia, Brazil, Belgium, Canada (provinces of Ontario, Alberta, Prince Edward Island, New Brunswick and Manitoba), China, France, Indonesia, Italy, Japan, Malaysia, Mexico, Russia, South Korea, Spain, and the United States of America. The US states are California, Hawaii, Illinois, Indiana, Maryland, Michigan, Minnesota, New York, North Dakota, Oregon, Rhode Island, South Dakota, Virginia, Washington, and Wisconsin. If you are a resident of one of these states or countries, are receiving this message in one of these states or countries, or intend to operate a franchise in any of these states or countries, we will not offer you a franchise unless and until we have complied with any applicable pre-sale registration and/or disclosure requirements in the applicable jurisdiction.
B. This offering is not an offering of a franchise. In New York (USA), an offering of a franchise can only be made by a prospectus that has been previously filed and registered with the Department of Law of the State of New York. The application for registration of an offering prospectus or the acceptance and filing thereof by the Department of Law as required by the New York law does not constitute approval of the offering or the sale of such franchise by the Department of Law or the attorney general of New York.