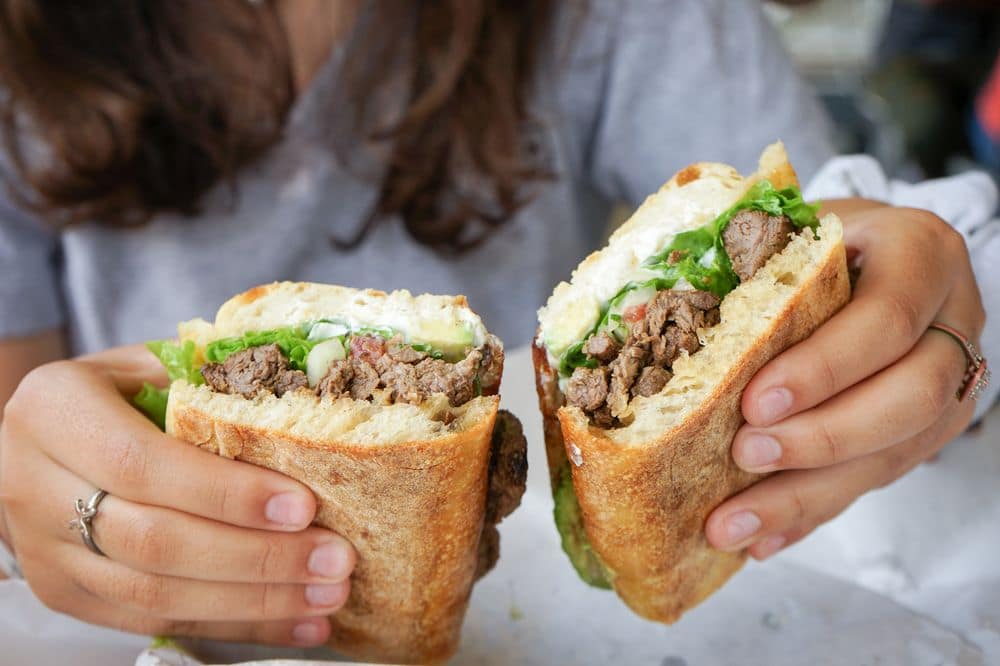 We came to this place before going to a Dodger game. I have been here once before and I remember the lines were long. There is a solid good reason why the lines are long. That's because the food is so stinking great!
I mean the bread is so soft and so tasty that it melts in your mouth. The bread is like practically its own food group. I could eat it and be totally satisfied.
The first time I tried the portobello mushroom sandwich and it was super good. Now I tried the shrimp sandwich and oh boy talk about layers of flavors!!
This sandwich is screaming with amazing flavors. The shrimps are big covered in a batter that is amazing. They add a sauce or spread that pairs so well with the shrimp.
Well I ended up eating my shrimp sandwich and ordering the watermelon mint drink. I didn't even take pictures because for one I was hungry or hangry and two I was in a hurry to go to the Dodger game lol. But third reason is because I was enjoying my food so much that I ate it all before taking any pictures. Just go you won't regret it.
Christine L.
Whittier, CA
---
If you're a vegetarian/pescatarian, I recommend the grilled veggie (mayo, zucchini, roasted red peppers, grilled cheese, tomato, sweet onion, garlic spread).
For my meat eaters, order the bombero (mayo, grilled steak, roasted red pepper, sauce, avocado). Friends rave about this one!
All tortas come with a side. I usually get the sweet potato fries or the potato salad (has strong mustard & dill taste which I loveee).
If you have a bigger appetite, the size of the torta is substantial. The torta is so filling, I usually only finish half & save the rest for later. The staff will even help you wrap it up nicely. Their customer service is great!
Christine C.
Monterey Park, CA
---
Overdue review… Parking may be an issue around lunchtime and you can see a line go out the door. They have a private parking lot but it's not enough for the number of people that go in. There's also residential and street parking. If you want to save time, you can phone in your orders!They have a wide selection of torta listed on their chalkboard wall. All tortas are under $12 and include a small side. They also serve coffee and homemade aguas which change daily!My favorite is torta is the "Bombero" with steak and avocado! I also liked "La Diablo" but I couldn't manage to finish my second half. You can really feel the heat from the habaneros they use.