The Largest and Fastest Growing American Halal
Fast-Casual Restaurant in the World 
FOUNDED / SEGMENT
1990 / Fast Casual – defining a new, thriving, restaurant segment: American Halal Food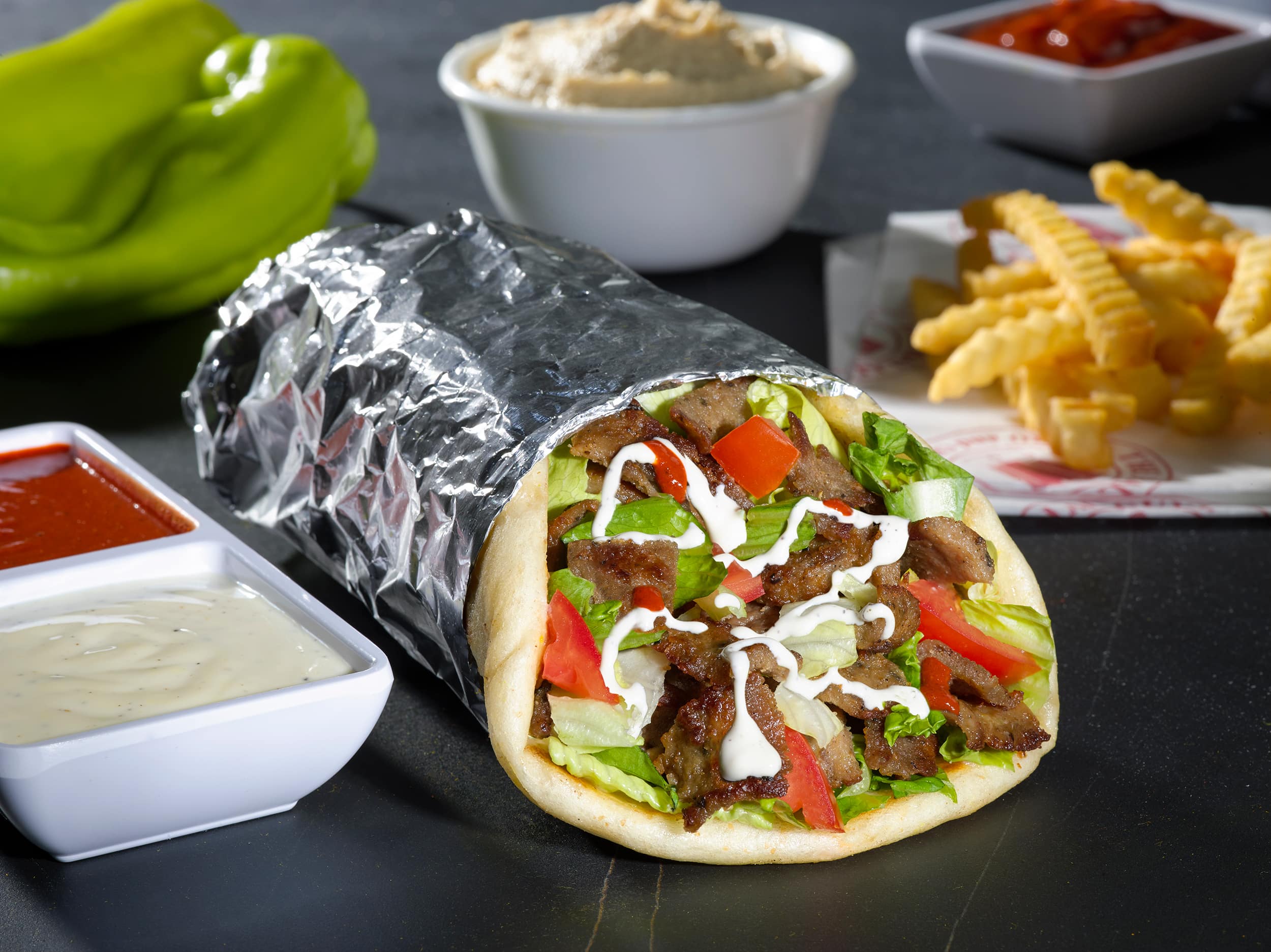 REVENUE STREAM / DAY PARTS
Dine-In, Carry Out, Online Ordering, Catering / Lunch, Dinner, Late Night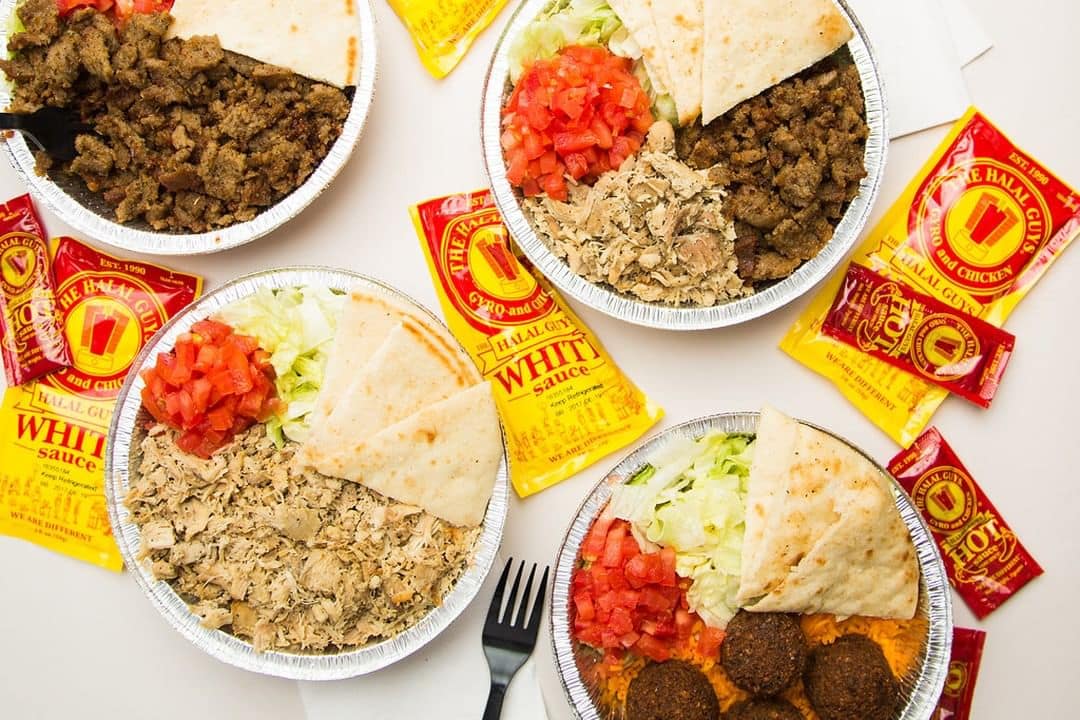 FOOTPRINT / HOURS OF OPERATION
1,400 – 1,800 sq. ft. / varies by location, approximately 11am – 12pm+
The Halal Guys represents the epitome of the American Dream. This iconic brand's fascinating origins tale is similar to scores of others who also emigrated to America in search of a better life. As a result of this journey, countless cultural traditions (and cuisines) crossed over into the United States over the years.
The Halal Guys' story begins in 1990 with three Egyptian founders, who first started a hot dog cart in New York City, then switched to selling halal food because there was practically no authentic halal food to be had in the five boroughs. Word spread about the unique American Halal Food they offer, and its fanbase quickly expanded to Muslim taxi drivers, who made the cart on 53rd & 6th Avenue, in the heart of Midtown, their new destination for fresh, delicious halal food at affordable prices. These same drivers helped spread the word about the brand's unique platter to a much larger, diverse demographic of locals and tourists eager to experience new and exotic tastes, textures, and flavors. This resulted in making The Halal Guys in 2017 both the #1 most Yelped restaurant and the top restaurant in New York City when asked Siri on an iPhone.
The Halal Guys' original carts operated around the clock, serving its guests in signature long lines that extended down the block. From lunch rushes to late-night food runs, the brand has always been here for its guests. The continued, enthusiastic demand for its fresh, delicious food and warm hospitality justified its expansion to bring authentic American Halal Food both across the nation and worldwide. The Halal Guys is now a global enterprise, with 94 locations and over 200+ new restaurants in development worldwide. 
The Halal Guys' unique year-over-year popularity and franchise business success has gained the attention of established Five Guys, Subway, Denny's, Elevation Burger, Dunkin, and Caesar's Palace franchisees who have chosen The Halal Guys as their next emerging restaurant brand.
Abdelbaset Elsayed, Mohammed Abouelenein, Ahmed Elsaka
Co-Founders
The Halal Guys
Unique in-demand concept, perfect fit for prime real estate & flexible conversion options from 1,400 sq.ft. – 1,800 sq.ft., with excellent unit economics
Strong mainstream demand, proprietary ingredients, & leverage of the famous brand name, trademarks, PR, & consistent nationwide customer loyalty at every location
Emerging restaurant franchise opportunity going fast – dozens of open locations & hundreds in development, experienced management team, leader of the American halal segment
Real estate, project management & full supply line support, plus training & operational support for franchisees, managers & employees

Grow your franchise portfolio; established Five Guys, Subway, Deny's, Elevation Burger, Dunkin Donuts, & Caesar's Palace franchisees have chosen The Halal Guys as their next emerging brand
MULTI-UNIT DEVELOPMENT FEE
Full deposit 1st unit, 50% deposit each additional unit
Target Franchisee
The Halal Guys is seeking franchisees that are focused on exceptional operations and customer service and looking to build multi-unit franchise territories. Franchisees must demonstrate substantial business experience and possess a true passion for The Halal Guys brand and the American halal food concept.
.
Franchise Requirements
In addition to your business experience (preferable in the restaurant industry), we request a professional General Manager be part of your team. Prospective franchisees must meet the minimum requirements below to be consider for a The Halal Guys franchise.
$1.5MM net worth*
$1MM liquid capital available for investment*
Ready to begin development within the next 3-6 months
Ready to develop a minimum 5-unit territory in a major U.S. area
*Investment partners may contribute to this requirement
Franchise Support
The Halal Guys franchise owners benefit from comprehensive training and support systems designed to increase business value and operational efficiency.
Support provided to franchisees includes:
Use of the famous brand name & trademarks
Marketing & brand building
Proprietary recipe access (including sauces) & menu development
Real estate, site selection
Store build-out, construction
Training for franchisees, managers & employees
Operational, project management support
Vendor & equipment selection
Business consulting
Pre-opening, grand opening support
UNITS OPEN

Arizona (5 units)
California (18 units)
Connecticut (1 unit)
Florida (5 units)
Georgia (2 units)
Illinois (5 units)
Louisiana (2 units)
Maryland (2 units)
Massachusetts (1 unit)
Nevada (3 units)
New Jersey (5 units)
New York (6 units)
Pennsylvania (3 units)
Tennessee (1 unit)
Texas (11 units)
Virginia (5 units)
Washington (1 unit)
Washington D.C. (1 unit)
Wisconsin (1 unit)
Ontario, Canada (2 units)
Jakarta, Indonesia (4 units) 
South Korea (3 units)

UNDER DEVELOPMENT


200+ units across the U.S. & around the world
"Working with The Halal Guys and Fransmart has been an amazing experience. The brand has an incredible cult following and we're excited to bring that unique flavor here to Southern California. Since becoming a franchisee, we've had tremendous support from corporate on all sides, and tons of success as we've attacked the real estate market around us to add more units."
Thomas Pham
Franchisee, The Halal Guys, CA
"What began as a humble New York meat cart is now a full-on global franchise (seriously, you'll find The Halal Guys in other locations from Wisconsin to the Philippines). Yet its midtown Manhattan location still attracts some of the city's longest lines for street food — no small feat — wooing office workers, cab drivers and tourists alike with gyro sandwiches and chicken over rice, slathered in proprietary red and white sauces."
Layla Khoury-Hanold
Food Network
"Just one look at The Halal Guys long lines and you see it's loyal customers from all walks of life waiting for delicious food. That right there is the definition of a successful franchise. The brand's small-footprint, high-volume stores are attractive to franchisees and make it easier to find affordable real estate in an increasingly tough market. The Halal Guys is absolutely the right brand at the right time."
Dan Rowe, Fransmart CEO
Excerpt from: New York Daily News
"As to why the brand has become so strong, appearing on the to-do lists of tourists and standing above countless imitators… It's the white sauce, always the white sauce, that draws everybody in, from uniformed cops to dainty girls whose palates otherwise incline to macarons… Get ready to taste it, America – and beyond."
Ligaya Mishan
The New York Times
"The original Halal Guys in Manhattan is a thing of local legend: a food cart that became a word-of-mouth phenomenon with long lines day and night. After signing with consulting firm Fransmart, The Halal Guys has been growing their franchise to hundreds of brick-and-mortar stores in the U.S. and overseas."
Venessa Wong
Bloomberg Business
"On any given day in Manhattan, be it a balmy 80-degree afternoon or after midnight in the dead of winter, a long line of people can be seen snaking up the sidewalk in front of The Halal Guys. So how does a concept go from a lone street cart to a chain that's rapidly being replicated across the globe? The answer, of course, is franchising."
Whitney Filloon
Eater Magazine
BECOME A THE HALAL GUYS FRANCHISEE IN 30-DAYS
Step 1
Submit an Inquiry Form
(Today!)
Step 2
Speak with Franchise Development Director
(within 24 hours)
Step 3
Submit the Franchise Application
(2 days)
Step 4
Review Application with Franchise Development Director
(3 days)
Step 5
Receive & review Franchise Disclosure Document with Franchise Development Director
(5 days)
Step 6
Schedule Discovery Day with Franchisor
(14 days)
Step 7
Execute letter of intent
(16 days)
Step 8
Become a Franchisee!
(30 days)
Ready to become a successful franchisee?
Complete our franchise application & access the FDD:
1. Notice Regarding Franchise Offers and Sales
A. This information is not intended as an offer to sell, or the solicitation of an offer to buy, a franchise. It is for information purposes only. There are approximately 14 countries and 15 US states that regulate the offer and sale of franchises. The countries are Australia, Brazil, Belgium, Canada (provinces of Ontario, Alberta, Prince Edward Island, New Brunswick and Manitoba), China, France, Indonesia, Italy, Japan, Malaysia, Mexico, Russia, South Korea, Spain, and the United States of America. The US states are California, Hawaii, Illinois, Indiana, Maryland, Michigan, Minnesota, New York, North Dakota, Oregon, Rhode Island, South Dakota, Virginia, Washington, and Wisconsin. If you are a resident of one of these states or countries, are receiving this message in one of these states or countries, or intend to operate a franchise in any of these states or countries, we will not offer you a franchise unless and until we have complied with any applicable pre-sale registration and/or disclosure requirements in the applicable jurisdiction.
B. This offering is not an offering of a franchise. In New York (USA), an offering of a franchise can only be made by a prospectus that has been previously filed and registered with the Department of Law of the State of New York. The application for registration of an offering prospectus or the acceptance and filing thereof by the Department of Law as required by the New York law does not constitute approval of the offering or the sale of such franchise by the Department of Law or the attorney general of New York.