Welcome to the Pi Pizzeria franchise,


home of irrationally delicious deep dish and thin cornmeal crust pizza
FOUNDED / SEGMENT
2008 / Full-Service Restaurant
REVENUE STREAM / DAY PARTS
Dine-In, Catering, Online Ordering, Carry Out / Lunch, Dinner, Snacks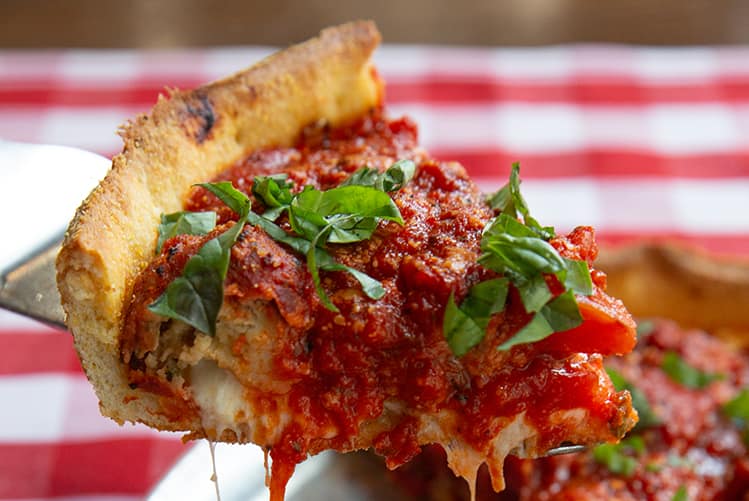 FOOTPRINT / HOURS OF OPERATION
3,000 – 5,000 sq. ft. / varies by location, on average 10am – 11pm
Born in St. Louis on Pi Day – March 14, 2008 – Pi Pizzeria was created to satisfy the needs of the modern urban consumer who was seeking high quality "real" pizza at reasonable prices in a distinct and service-oriented environment.
Pi's green mission statement and commitment to doing good while doing pizza well resonated with the St. Louis community and tourists alike. In October 2008 Pi's pizzas captured the heart and taste buds of then-Senator Barack Obama. In April 2009, Pi had the distinct honor and privilege to be invited to the White House to cook for the First Family. That made Pi Pizzeria the first non-staff to prepare food at the Obama White House. The Pi team has subsequently cooked for the President, Vice President and other famous politicians and celebrities on numerous occasions.
Pi's success continues to be driven by elevating the pizza experience through legendary hospitality and premium ingredients in an inspired and comfortable atmosphere. We are proud to serve our deep dish corn meal classic thin crust pizza, whole grain and gluten-free crusts, in the most compelling properties of our cities' most vibrant urban neighborhoods.
Pi's culture and the unique atmosphere crafted for each location has particular importance for guests and their loyalty, making a Pi Pizzeria franchise an excellent addition to any community.
Chris Sommers
Founder/Owner
Pi Pizzeria
Capitalizing on the $144 billion pizza industry. According to a Technomic study, 83% of consumers eat pizza at least once per month
A long list of awards & accolades including being the first restaurant invited to the White House to cook for the First Family
Streamlined menu consisting of mouth-watering appetizers, salads, and an array of delicious pizza crust and topping options
Everything about the dining experience from start to finish is centered around our customers, and they notice
Franchise owners benefit from a comprehensive training and support system designed to increase business value and operational efficiency
MULTI-UNIT DEVELOPMENT FEE
Full deposit 1-3 units (or 1-5 for 10+ units), 50% deposit each additional unit
Target Franchisee
Pi Pizzeria is looking for qualified franchisees who share the same passion for serving customers our highest quality food and drinks across the United States. Prospective franchisee should have multi-unit food service operator experience, be hands-on in the operations of their restaurants and adhere to Pi Pizzeria's organizational structure requirements and brand guidelines.
Franchise Requirements
Operational experience in the restaurant business is a plus, but not required assuming a professional General Manager will be part of your team. Prospective franchisees must meet the minimum requirements below to be consider for a Pi Pizzeria franchise.
$1MM net worth*
$500K capital available for investment*
Ready to begin development within the next 3-6 months
Ready to develop a minimum 5-unit territory in a major U.S. area
*Investment partners may contribute to this requirement
Franchise Support
Pi Pizzeria franchise owners benefit from comprehensive training and support systems designed to increase business value and operational efficiency.
Support provided to franchisees includes:
Real estate, site selection
Store build-out, construction
Training systems
Operational support
Recipe & menu development
Marketing & brand building
Vendor & equipment selection
Point of Sale system
Business consulting
Pre-opening, grand opening support
"Pi Pizzeria would ace Windy City-based food editor, Matt Lynch's [pizza crust] test because its deep-dish pizza has a crust satisfying enough to tempt me to eat my slices in reverse."
Laura Hayes
Editor at Bethesda Magazine
"Obama liked Pi Pizzeria so much that he invited the owners to cook at the White House, and while you might not have a mansion to show your affection, Pi is still worth checking out. You can choose between the cornmeal crusted deep dish and the thin crust, or just try one of each if you come with friends."
The Infatuation

"Love this pizza. Been there probably 10 times now and always consistently delicious. We always get one of their specialty pizzas on deep dish – awesome flavor combinations and the deep dish is the best- not doughy or super heavy- just right plus a nice crispness to it due to the cornmeal. Have taken numerous friends and family there and everyone comes away saying it's some of the best pizza they have ever had."
Todd H.
Restaurant visitor, Washington D.C.
"This is my favorite pizza for DC, took guest from LA there and he agreed. Great ingredients and a crust recipe that cannot be beaten, first class every time. The gluten free crust is a winner also and top of my wife's list. The specialty pizzas are all easily good choices."
Todd L.
Restaurant visitor, Washington D.C.
"I've both ordered AND dined in here and have never been disappointed with the service or the food. My husband can get his carnivore on and I can get my vegan on at the same time. Vegan pizza from my experience is absolutely fabulous!"
Brianna J.
Restaurant visitor, Washington D.C.
"I had a great experience at Pi Pizzeria. The staff genuinely cared about me as a customer and insured that I knew the details about each option on the menu and provided me with great recommendations. This is the #1 pizza spot in the city."
Maurice T.
Restaurant visitor, Washington D.C.
BECOME A PI PIZZERIA FRANCHISEE IN 30-DAYS
Step 1
Submit an Inquiry Form
(Today!)
Step 2
Speak with Franchise Development Director
(within 24 hours)
Step 3
Submit the Franchise Application
(2 days)
Step 4
Review Application with Franchise Development Director
(3 days)
Step 5
Receive & review Franchise Disclosure Document with Franchise Development Director
(5 days)
Step 6
Schedule Discovery Day with Franchisor
(14 days)
Step 7
Execute letter of intent
(16 days)
Step 8
Become a Franchisee!
(30 days)
Ready to become a successful franchisee?
Click below to complete our franchise application & access the FDD:
1. Notice Regarding Franchise Offers and Sales
A. This information is not intended as an offer to sell, or the solicitation of an offer to buy, a franchise. It is for information purposes only. There are approximately 14 countries and 15 US states that regulate the offer and sale of franchises. The countries are Australia, Brazil, Belgium, Canada (provinces of Ontario, Alberta, Prince Edward Island, New Brunswick and Manitoba), China, France, Indonesia, Italy, Japan, Malaysia, Mexico, Russia, South Korea, Spain, and the United States of America. The US states are California, Hawaii, Illinois, Indiana, Maryland, Michigan, Minnesota, New York, North Dakota, Oregon, Rhode Island, South Dakota, Virginia, Washington, and Wisconsin. If you are a resident of one of these states or countries, are receiving this message in one of these states or countries, or intend to operate a franchise in any of these states or countries, we will not offer you a franchise unless and until we have complied with any applicable pre-sale registration and/or disclosure requirements in the applicable jurisdiction.
B. This offering is not an offering of a franchise. In New York (USA), an offering of a franchise can only be made by a prospectus that has been previously filed and registered with the Department of Law of the State of New York. The application for registration of an offering prospectus or the acceptance and filing thereof by the Department of Law as required by the New York law does not constitute approval of the offering or the sale of such franchise by the Department of Law or the attorney general of New York.